top
The Robert Lougheed Family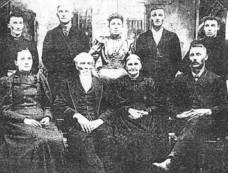 Feature: Family Biography by Donald Lougheed
Feature: Family Biography by Pat Lougheed Dowdell
See key documents online


Click for Marrage License
Click for Pension
Click for War Record
Click for Tombstone
top
top
Generation No. 1


1. ROBERT ALBERT2 LOUGHEED II (ROBERT1) was born August 15, 1822 in Sligo, Ireland, and died January 04, 1901 in Malcolm Cemetery, Northwest Twp., Williams Co., Ohio. He married ELECTA PERMELIA GOODRICH October 27, 1850 in Hillsdale County, Michigan, daughter of ARCHIBOLD GOODRICH and MABEL BEEBE.
Fact 1: 1822, Only Surviving Male Heir to Robert Lougheed, Sr. - 12 Sisters
Fact 2: 1831, Parents died when he was 9
Fact 3: 1829, Immigrated to America near Quebec, Montreal, Canada
Fact 4: 1835, Moved with Sister's Families to Hudson in Lower Michigan Near Angola, Indiana
Fact 5: Abt. 1835, Grew up with Sister Julia, her Husband and Sister Mary's widower.
Fact 6: Abt. 1835, Worked for Brother-in-Law as Railroad Section Gang Boss
Fact 7: July 16, 1845, Buys 80 acre farm-$500 from Brother-in-Law, 4 mile W & 2.5 mile N of Hudson, MI
Fact 8: October 27, 1850, Married the local school teacher while he was laying railroad
Fact 9: August 14, 1862, Enlisted in the Union Army on his 40th Birthday, HonDIs. 7/14/1865
Fact 10: May 25, 1870, Sold farm ($4,800) Moved to Northwest Twsp. Ohio - Colney, Ohio
Fact 11: February 17, 1871, Buys 80 acre farm-$2,250 1 mile west of Coney, Ohio
Fact 12: December 28, 1899, Sells farm ($1,233.86) and Moved to Billington, Ohio


More About ELECTA PERMELIA GOODRICH:
Fact 1: Devout Christian, being converted in her earlier years
Fact 2: From Schenedtady, NY - Grandfather in Revolutary War
Fact 3: Avid Reader. Taught in one room Schoolhouse
Fact 4: Very generous, A good neighbor, Willing to aid anyone in need
Fact 5: "A great lady. Considered well-informed and educated for her day."
Fact 6: "Helped husband Robert to be a very well read man."
Fact 7: Always paid room and board when staying with her children
Fact 8: Served for many community activities
Fact 9: Quote - "Donald, if I hear you swear 1 more time, I'll sew your mouth shut."
Children of ROBERT LOUGHEED and ELECTA GOODRICH are:
| | | | | |
| --- | --- | --- | --- | --- |
| | i. | | ALICE MARIA3 LOUGHEED, b. August 01, 1851, Near Pittsford, Michigan. | Alice |
| | | | | |
| --- | --- | --- | --- | --- |
| | ii. | | ROBERT ARCHIBOLD LOUGHEED, b. May 06, 1854, Bryan, Ohio in a railroad camp; m. ZENOBIA KIME. | Robert |
| | | | | |
| --- | --- | --- | --- | --- |
| 2. | iii. | | JULIA ESTELLA LOUGHEED, b. July 04, 1860, Hudson, Michigan. | Julia |
| | | | | |
| --- | --- | --- | --- | --- |
| 4. | v. | | LEWIS N. LOUGHEED, b. 1870, in Northwest Township near Billingstown, OH. | Lewis |
| | | | | |
| --- | --- | --- | --- | --- |
| | vi. | | LENA JANE LOUGHEED, b. 1873, Northwest Township - Coney, Ohio. | Jane |
| | | | | |
| --- | --- | --- | --- | --- |
| | vii. | | LOLA MARY LOUGHEED, b. 1875, Northwest Township - Coney, Ohio. | Lola |
top